The Specialist Upholstery Company
Automotive, Leisure & Marine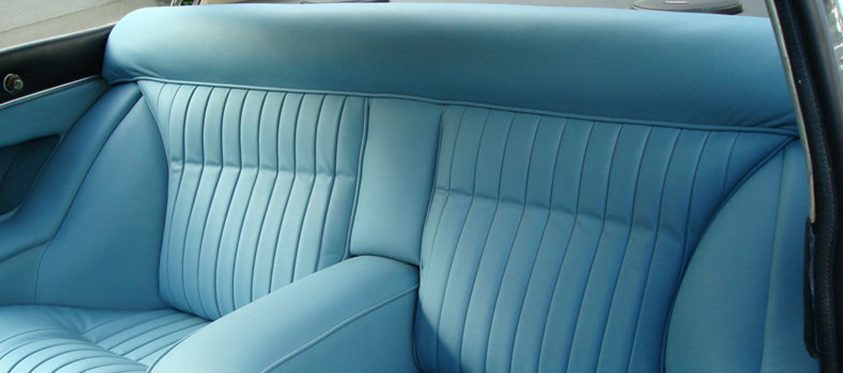 Our automotive & leisure services cover trimming and re-upholstery services for classic cars and contemporary vehicles.
We offer extensive services for limousines, caravan's motorcycles, jet ski, boats and light aircraft. The scope of work can range from simple car seat re-upholstery to a complete bespoke interior, and can cover re-trimming in a wide range of materials and fabrics. These can be customer supplied or sourced through our own extensive network of suppliers. When you choose us to re-upholster your vehicle, we can use anything from the latest modern materials through to the finest traditional English leather hides and the best Wilton carpet.
For those with a modern high performance vehicle, we can add distinctive touches to personalise your vehicle like adding contrasting colour panels or piping. Our work can follow the original manufacturer's patterns or be completely customised to your own specification. We have provided a service to many satisfied customers and we have extensive experience of classic car trimming, limousine trimming, kit car interiors, mobile homes and custom car interiors.
Collection and delivery services for customer's vehicles can be arranged on request.
Here at the Specialist Upholstery Company we are really passionate about cars and we pride ourselves on the vehicle re-upholstery and trimming services that we offer our fellow enthusiasts. We have extensive experience of trimming classic Ferrari's, with Ferrari 330 GTC, Ferrari 365 and Ferrari 250 being just some of the models we have completed.
Ferrari, Iso Rivolta, Lamborghini and Rolls Royce are just a few of the classic cars we have completed full interior trims for. Whatever your needs, please give us a call and lets discuss how we can re-upholster the interior of your cherished classic vehicle.
For the Volvo 1800 enthusiast we can offer a complete restoration service. I have many years of personal experience as a fellow enthusiast with these cars and I am now in a position to offer much more than just interior trimming and upholstery for the Volvo 1800 coupe.
If you would like to discuss a project with us, please call, email or complete our enquiry form in the contact page.
Would you like to learn how to tackle your own car re-upholstery?
Take a look at our car upholstery training pages – suitable for the DIY enthusiast and professional alike.

Some before and after pictures showing just what is possible.